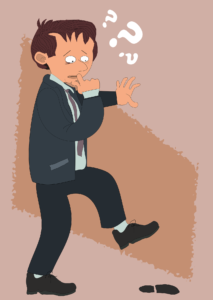 If the voices in our heads were sticks of dynamite, just one us ADDers or otherwise distracted folks could probably blow off the top of Mt Everest.
Quadruple the voices with those of our past, and we stop taking any kind of inspired action toward discovering the joy of doing what we love for a living.  You also get Major Stuckness, confusion and loss of self-confidence all rolled up into one big ball of goop.
One of the worst voices of all shout, "I can't do THAT…..I shouldn't do THAT…..and the worst of all, I won't do THAT."  Especially when it comes to livelihood choice.
By the time we finally get a pay check, many of us have given up on our dreams and gone straight to Indeed or Monster in hopes of a miracle, all encompassing everything- I-want-and-need kind of job.  
So how is that working?
Let's take one situation where the dreaded "I shouldn't …" comes into play. Here is what it really looks like from *expert from Bolles' Parachute:
This is hard, boring, time-consuming, etc (and that's not fair; it shouldn't be this way; someone else should do this)

I'm afraid of change – I might lose more than I would gain.

It probably won't work out, so why bother?

You're the counselor (therapist, spiritual advisor, etc) – it's your job to…

It'll all work out (without any effort on my part)

If it doesn't work out perfectly, I'm not interested

They (the government, etc) should put up the money, have a program, lower the entry requirements, etc

It's not fair that what happened to me happened to me (and life is suppose to be fair .. and I feel abused and cheated when it isn't)

I don't try for things I stand a chance of failing at.
Familiar?  We ALL have experienced one or more of these show stoppers. What if I told you there is a way that is not boring, or any of the other reasons listed above, to have it all …  one palatable step at a time?  
Grappling with these voices can be daunting.
I would like to offer one tip to at least begin to recognize when this is happening to you, whether on the job or stuck in the "not knowing" stage of career transformation.  
Notice the feeling, notice the feeling, notice the feeling, notice the feeling in your body as it occurs.  
Let the feeling run its course with love. Write down any insights. Use this particularly when you find yourself talking yourself out of an important livelihood-related decision.  Of course you can use this technique in any area of your life.  I use it with my clients all the time and it is truly a game changer.
Would you like to spend a few minutes with me and start to feel confident again.  Let's chat. Go to www.shellmendelson.com and schedule a session time that works for you or email me at shell.mendelson@gmail.com.