Inspirations Along the Path
Shell Mendelson, MS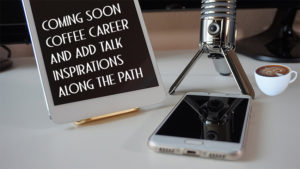 Evolution of a Career-Related Podcast for ADHD adults
In November, Career Coaching with Shell will launch a brand new podcast focusing solely on all things career for our tribe of ADHD adults, including ADHD in the workplace. And, since many of us are incredible manifestors, movers and shakers, entrepreneurs and creative big picture thinkers, it goes without saying that everyone will benefit from the information presented.
I chose podcasting as a way to reach out to our tribe on the subject of all things career for a couple of specific reasons.
Many of us become distracted from incorporating information in video mode, even if you are a visual learner. Listening allows us to keep the distractions to a minimum. It also allows the listener to incorporate information that can lead to taking real inspired action. Being inspired is the number one key and cornerstone to making a unstoppable career decision and/or transition.
I chose podcasting for me. I discovered a love for interviewing when I put together a webinar series interviewing 20 experts. Not only was it great fun, but I realize I have a knack for creating a conversational environment that allows the guest to open up. In short, I discovered a new, practical skill. Listeners will also have the opportunity to discover skills that come naturally and learn to incorporate them into their current or future career, and particularly how you are impacted by ADHD in the workplace.
Also, I kind of detest doing videos. It once took me 40 tries before I finally released a two minute video. Even then, I didn't love the way it turned out. I'm not likely to do that again anytime soon, although I highly recommend doing videos to my clients who enjoy the process. And yet, as the saying goes, "never say never."
Topics and Format
Guests that "bring it." My goal is to have on a number of people with ADHD who consider themselves successful and have ingeniously developed ways to do what they love consistently, as well as how they happily cope with ADHD in the workplace. Listeners will see themselves in many stories and be inspired to take the first steps toward creating a joyful worklife. My first guest actually wrote a book that focuses on career and ADHD. I am happy to be a contributor…and his own story is extremely relatable. You can look forward to hearing some fun, funny and inspiring tales. We are cool, often hilarious and sometimes over-the-top folks who are unstoppable when we get excited.
Tips, Practical Advice and Juicy Insights. As a practicing career coach of some 30 plus years, who was trained by the late great Richard N. Bolles, I will also offer up practical tips that you can incorporate easily into your own day to get the ball rolling if you are:

Stuck in your current career and need to find ways to ease out
Eager to discover more of who you are plus what YOU have to offer the world of work and how to navigate your ADHD in the workplace.
Have no clue what you want to do or where you want to go next
Have way too many seemingly crazy ideas and can't seem to focus on one
Know that something has been missing in your search for pleasing, fun, exhilarating, energizing work and are screaming for just one "ah ha moment" that will light you up and get you started
Hoping to find a podcast that thrives on the needs of its listeners and wants what YOU want.
In short, I hope to break new ground on the subject for our tribe by delving into areas that are both practical and entertaining. If you are tired of seeing the focus on resumes, cover letters, interviewing skills, networking, blah blah blah as a way to make a solid career change to creating the work you love, and goes beyond the surface, this podcast is definitely for YOU.
Be a little scared … in a good way. Creating a sustainable, happy work life and navigating ADHD in the workplace is an onion-peeler….and your story is just beginning.
You can join me, Shell Mendelson, next month, the exact day and time to be announced. You can always contact me at a href="mailto:shell.mendelson@gmail.com">shell.mendelson@gmail.com or go to http://passiontocareer.com/ to learn more about how you can make a difference in your career and life. If you would like to be a guest with a unique story to tell about your own career happy place, send me an email and I will get back to you in 48 hours.
Talk soon.